British servicemen suspected of murdering Iraqi civilians
by editor | 13th September 2010 9:35 am
British servicemen suspected of murdering Iraqi civilians
Exclusive: Soldiers and airmen are suspected of killing significant number of civilians, but have not been put on trial
Ian Cobain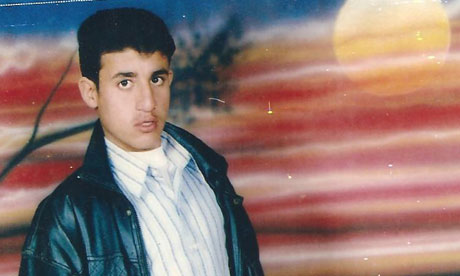 British soldiers and airmen are suspected of being responsible for the murder and manslaughter of a number of Iraqi civilians in addition to the high-profile case of Baha Mousa, defence officials have admitted.
The victims include a man who was allegedly kicked to death on board an RAF helicopter, another who was shot by a soldier of the Black Watch after being involved in a traffic incident, and a 19-year-old who drowned after allegedly being pushed into a river by soldiers serving with the Royal Engineers.
Military police recommended that some of the alleged killers be put on trial for murder and manslaughter, but military prosecutors declined to do so after concluding that there was no realistic prospect of convictions. The Ministry of Defence and the Service Prosecuting Authority (SPA) have repeatedly declined to offer detailed explanations for those decisions. The MoD has also been reluctant to offer anything other than sketchy details of some of the investigations.
In the case of the man said to have been kicked to death aboard an RAF helicopter by troops of the RAF Regiment, the MoD has admitted that the allegation was investigated by RAF police, who decided not to conduct any postmortem examination of the body. After the case was referred to the RAF's most senior prosecutor, a decision was taken not to bring charges, apparently because the cause of death remained unknown. MoD officials are refusing to say whether any of the alleged killers were ever interviewed as part of the investigation. They did admit, however, that the British military has made no attempt to contact the man's family since his death.
The disclosure that British servicemen are suspected of being involved in the unlawful killing of a significant number of Iraqi civilians comes after the high court gave permission for a judicial review of the MoD's failure to establish a public inquiry into the British military's entire detention policy in the wake of the 2003 invasion.
An army investigation into a number of cases – including that of Mousa, who was tortured to death by British troops – conceded in 2008 that they were a cause for "professional humility", but concluded that there was nothing endemic about the mistreatment.
In July, however, after reviewing evidence submitted by lawyers representing 102 survivors of British military detention facilities, the high court ruled: "There is an arguable case that the alleged ill-treatment was systemic, and not just at the whim of individual soldiers." The court also cast doubt on the ability of military police to conduct independent investigations.
The abuse documented by a team of lawyers led by Birmingham solicitor Phil Shiner includes 59 allegations of detainees being hooded, 11 of electric shocks, 122 of sound deprivation through the use of ear muffs, 52 of sleep deprivation, 131 of sight deprivation using blackened goggles, 39 of enforced nakedness and 18 allegations that detainees were kept awake by pornographic DVDs played on laptops.
The incidents which led to British servicemen being suspected of murder or manslaughter came shortly after the invasion, at a time of growing chaos and lawlessness in Iraq.
The RAF case concerns the death of a man called Tanik Mahmud, who was detained at a checkpoint at Ramadi in western Iraq on 11 April 2003 for reasons that the MoD has repeatedly declined to disclose. He and a number of other detainees were put aboard a Chinook helicopter, and guarded by three men from the 2nd Squadron of the RAF Regiment.
The MoD says that Mahmud "sustained a fatal injury" while on board the aircraft, but maintains that it does not know what sort of injury this was. On the Chinook's arrival at a US air base, Mahmud's body was examined by a US military doctor, who declared the cause of death to be unknown.
The MoD says that an RAF police investigation was opened two months later following a complaint that the three men from the RAF Regiment "had kicked, punched or otherwise assaulted" Mahmud. According to the MoD's account, the RAF investigators waited a further 10 months before asking a pathologist whether it was worth conducting a postmortem examination. According to the RAF investigators, this pathologist advised them that Mahmud's body would be too decomposed for an examination to be worthwhile. The MoD would not say whether the pathologist was an RAF officer.
That view is disputed by an experienced forensic pathologist, who has told the Guardian that an examination could still reveal evidence of an assault, particularly if any ribs or facial bones had been damaged. Derrick Pounder, professor of forensic medicine at the University of Dundee, who has experience of exhumations and postmortems in the Middle East, said: "That advice would be contrary to the advice that any UK forensic scientist would offer to any police in the UK who were investigating an allegation of assault leading to death." When the Guardian asked the MoD if it could see a copy of the pathologist's advice that it says the RAF police received, a spokesman said no copy could be found in its files.
Three weeks after Mahmud was killed, a man called Ather Karim Khalaf, a newlywed aged 24, was shot dead, allegedly after the door of his car swung open at a checkpoint and struck a soldier of the Black Watch. An eyewitness has told the Guardian that after being shot at close range Karim Khalaf was dragged from the car and beaten. He died later in hospital. The MoD confirmed that Karim Khalaf had been sitting at the wheel of his car when he was shot, and that witnesses have complained that he was then taken from the vehicle and beaten. A spokesman said the Royal Military Police (RMP) recommended that the soldier be prosecuted for murder, but military prosecutors declined to do so.
Four weeks after Karim Khalaf was shot dead, Said Shabram, 19, drowned after British soldiers allegedly pushed him and another man, Munaam Bali Akaili, from a four-metre-high jetty into the Shatt al-Arab waterway near Basra.
In a statement that Akaili made during a claim for compensation, he described the moments before his friend died. "The soldier with the gun then started pushing us towards the edge of the jetty," he said. "Said and I were very afraid and started begging the soldier to stop. The soldier continued to push us towards the edge. He seemed to get agitated that we would not jump in and, at one point, I thought he was getting so angry he would shoot us. The soldiers were laughing. The soldier with the gun suddenly pushed us into the water."
Akaili was dragged from the water by passersby. Shabram's body was recovered after his family hired a diver to search the water. An MoD spokesman said the three Royal Engineers were reported by the RMP for manslaughter, but military prosecutors declined to bring charges.
The MoD evaded a series of questions about prosecution decisions in these cases for more than three months, before deciding they should be addressed by the Service Prosecuting Authority, which was formed last year from the merger of the armed services' prosecuting bodies.
Brigadier Philip McEvoy, deputy director of the SPA, said the name Ather Karim Khalaf meant nothing to him; when asked how many cases there could be in which military police had recommended a soldier be prosecuted for murder, he replied: "God knows."
McEvoy also said he knew little about the Tanik Mahmud case because the file had been retained by the RAF's directorate of legal services. He then maintained that he had no idea where that directorate was based.
McEvoy issued a statement in which he said there had been too little evidence to justify a prosecution in the Mahmud or Shabram cases. He added that "the presumption of innocence can only be undermined" if the SPA were to release information allowing the public to determine why an individual had fallen under suspicion.
A small number of soldiers alleged to have killed Iraqi civilians have faced prosecution.
A court martial cleared four soldiers who were accused of the manslaughter of a 15-year-old, Ahmed Jabbar Kareem, who drowned after he was allegedly pushed into a canal in Basra two weeks before the death of Shabram. The court heard that British troops had a policy of "wetting" suspected looters by forcing them into canals and rivers.
In a separate case, seven soldiers were cleared of the murder of another Iraqi teenager, Nadhem Abdullah, after a judge ruled that there was insufficient evidence.
Six soldiers were cleared of the abuse of Baha Mousa. A seventh pleaded guilty to inhumane treatment and was jailed for a year.
In a number of other cases in which Iraqi civilians have died in British military custody, the RMP has not recommended criminal charges. These include the case of Abdul Jabbar Musa Ali, a headteacher aged 55, who was detained by soldiers of the Black Watch, along with his son, after a number of firearms were found at their home. Both men are alleged to have been beaten as they were being detained, and the MoD concedes that "there is some corroborative witness evidence to support allegations that they were assaulted" when arrested.
In a statement that Musa Ali's son has given to lawyers, he said his father was subsequently kept hooded and beaten repeatedly for several hours, and that his screaming abruptly stopped. When his family retrieved his body it was said to have been extensively bruised. The MoD said it was not possible to establish whether a crime had been committed because the family refused permission for an exhumation.
Another man died five days earlier after being detained by soldiers of the Black Watch, apparently at the same detention centre. His corpse was taken to a local hospital where his death was recorded as being the result of cardiac arrest. The MoD admits that this recording was made by a man with no medical qualifications. "The RMP subsequently investigated and established that no crime had been committed," the MoD said.
Source URL: https://globalrights.info/2010/09/british-servicemen-suspected-of-murdering-iraqi-civilians/
---