Beirut gives Mahmoud Ahmadinejad a warm welcome
by editor | 14th October 2010 6:18 am
Iranian president's Lebanon visit seen as a boost for Hezbollah and described by White House as provocative
Hugh Macleod in Beirut and Ian Black, Middle East editor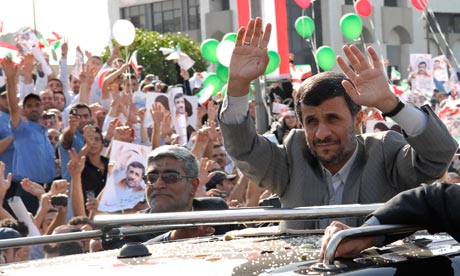 Mahmoud Ahmadinejad waves to the crowds on his arrival in Beirut. Photograph: Mahmoud Tawil/AP
Mahmoud Ahmadinejad was given a warm welcome in Lebanon today despite fears that his visit will aggravate domestic tensions in the politically divided country by boosting the militant Shia group Hezbollah, which is supported by Tehran.
Thousands of Hezbollah supporters cheered Iran's president and waved Iranian flags as he spoke, partly in Arabic, at a mass rally in a football stadium in Beirut's Shia southern suburbs this evening. "Lebanon is the school of resistance and steadfastness against all the bullying forces in the world," he told the crowd.
Earlier, Ahmadinejad was showered with rice and flowers – a traditional greeting – by crowds lining the highway from the airport as he defied security fears and stood to wave through the roof of his car.
The Iranian leader laid a wreath at the statue to Lebanon's martyrs in Beirut's central square but did not visit the nearby tomb of the murdered former prime minister Rafiq al-Hariri, as visiting dignitaries usually do.
Tensions are running high over the murder, with expectations that Hezbollah members could be indicted by a UN tribunal investigating the 2005 killing, possibly triggering violence on the streets. The militant group's leader, Hassan Nasrallah, welcomed Ahmadinejad to this evening's ally from a giant video screen – owing, apparently, to worries about his own security.
Ahmadinejad, speaking at the presidential palace at Ba'abda after meeting his Lebanese counterpart, Michel Suleiman, said: "The Iranian nation will always stand beside the Lebanese nation and never abandon them … We will surely help the Lebanese nation against violations … by the Zionist regime [Israel]. Our region does not need the intervention of any external forces."
He is due tomorrow to tour areas in southern Lebanon where Hezbollah is popular. It remains unclear whether he will, as reported, throw stones across the border into Israel in an act of symbolic defiance.
Israel lobbied the Lebanese government over the visit and the US and France warned it against provocative actions by Ahmadinejad. Washington argued that Hezbollah was undermining Lebanon's sovereignty. The movement, which is hailed by many Lebanese for its resistance to Israel, has not disarmed since the 2006 war and is said to have replenished its arsenal in preparation for future conflict.
A statement from the White House today again called the visit "provocative". An Israeli foreign ministry spokesman called Ahmadinejad "a warmonger who has come to Lebanon to play with fire".
Analysts say Ahmadinejad and hardliners in Tehran – facing economic problems at home and international pressure over the nuclear programme – want to affirm Iran's regional importance and show that it is ready to confront US and Israeli policies, at least by supporting their enemies.
Lebanon's defence minister, Elias Murr, told the Guardian that despite a series of agreements between the two countries there had been no discussion of Iran's offer to arm the Lebanese Armed Forces, made after the US Congress suspended assistance to the LAF in August following a rare border clash with Israel. "There's been no talk of that, but what Lebanon wants is an army that can protect the land, fight terrorism and believes in values," he said.
Murr also reiterated Suleiman's statement that Lebanon supports Iran's right to nuclear power, a stance likely to strengthen the position of hawks in Washington who wish to cut US military assistance.
Iran did agree a £283m loan for Lebanon to support power and water projects. Iran is also heavily involved in reconstruction projects in the south.
Ahmadinejad also held discussions with Nabih Berri, the speaker of parliament and Lebanon's senior Shia politician, as well as prime minister Saad Hariri, son of the murdered former premier, whom Lebanese news channels reported as being less than comfortable with the talks.
Source URL: https://globalrights.info/2010/10/beirut-gives-mahmoud-ahmadinejad-a-warm-welcome/
---