Nigerian capital rocked by three bombs on 50th independence anniversary
by editor | 2nd October 2010 7:53 am
Nigerian capital rocked by three bombs on 50th independence anniversary
At least eight people killed by militants from Niger delta over what they call '50 years of failure'
Jenny Percival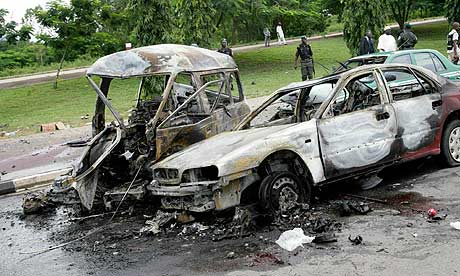 At least eight people were killed in Nigeria today when suspected militants from the country's oil region attempted to wreck 50th anniversary celebrations for the country's independence with an unprecedented series of car bomb attacks on Abuja, the capital.
The explosions came an hour after the main militant group in the oil-rich southern delta, the Movement for the Emancipation of the Niger Delta (Mend), threatened in an email to attack the festivities and warned people to evacuate the area.
"Several explosive devices have been successfully planted in and around the venue by our operatives working inside the government security services," the email, signed by spokesman Jomo Gbomo, said. "In evacuating the area, keep a safe distance from vehicles and trash bins."
President Goodluck Jonathan, who was inspecting a guard of honour at the time, called it a "wicked act of desperation by criminals and murderers".
Police confirmed that two car bombs had detonated outside the justice ministry in Abuja. A third, smaller explosion hit a venue at nearby Eagle Square, where the president sat with hundreds of Nigerian and foreign dignitaries. Jonathan, who faces an election next year, left in an armoured limousine without making a scheduled address. The celebrations, with army bands, dancing children and air force displays, continued without him.
Mend has been fighting for years for a greater share of oil revenues from the Niger delta, home to Africa's biggest oil and gas industry. The delta, which is also home to the president, is impoverished and polluted by spills.
In its warning email, Mend said: "For 50 years, the people of the Niger delta have had their land and resources stolen from them." The group has previously operated primarily in the delta, hundreds of miles from the capital, although it has struck offshore oil installations and in the country's commercial capital, Lagos. Today's attacks, the first on Abuja and launched in defiance of tight security surrounding the celebrations marking Nigeria's independence from the UK, are the militants' boldest yet.
"Two car bombs exploded and eight people are confirmed dead," Abuja police spokesman Jimoh Moshood told Reuters. At least one of the dead was thought to be a policeman, while a security agent was seen lying on the ground after the Eagle Square blast.
Mend's attacks subsided after an amnesty deal last year provided cash for fighters and the promise of job training. However, many ex-fighters say the government has failed to fulfil its promises.
Elizabeth Donnelly, Africa programme manager at the foreign policy thinktank Chatham House, said: "This latest violence has broken the amnesty but the questions will be which part of Mend has perpetrated the violence – it could be men from the lower ranks who did not benefit from the deal – and whether or not this is part of a bigger, longer term strategy."
She added that few ordinary Nigerians would have sympathy with the terrorists, but neither did many have confidence in the government.
Nigeria's oil production has climbed from about 1.6m barrels a day before the amnesty to around 2m now. A return to violence could have implications for Nigeria's economic growth.
Alan Cameron, of Business Monitor International, said the attacks risked reinforcing foreign perceptions that Nigeria was at risk of slipping into violence, necessitating military intervention, or even a coup. But he added: "In our view, these fears are still a little overdone, although today's incident will create huge pressure on Jonathan to show that he can keep the situation under control."
Source URL: https://globalrights.info/2010/10/nigerian-capital-rocked-by-three-bombs-on-50th-independence-anniversary/
---