Osama bin Laden living in comfort in Pakistan, says Nato official
by editor | 19th October 2010 6:35 am
Official says al-Qaida leader was moving between houses in the far north-west of Pakistan, and 'not living in a cave'
Ewen MacAskill in Washington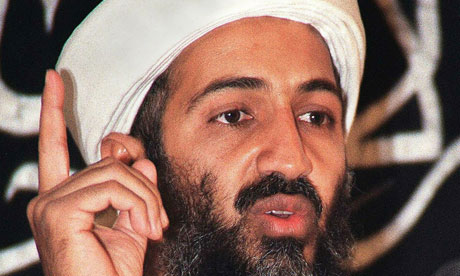 Osama bin Laden is living in relative comfort in the far north-west of Pakistan, according to a Nato official who has day-to-day responsibility for the war in Afghanistan.
The official, who has access to sensitive intelligence information, told CNN that Bin Laden was not holed up in a cave, but has been moving between houses in the Chitral district and the Kurram valley, which neighbours Tora Bora in Afghanistan, from which he fled in 2001.
Recent reports had placed him much further south, in North Waziristan, the base for many Taliban insurgents moving back and forth across the Afghanistan-Pakistan border. Many of the US drone attacks on suspected al-Qaida and Pakistan targets have taken place in North Waziristan.
The Pentagon, acknowledging that a senior official had given a background briefing on the issue, refused to confirm or deny the CNN report.
The official said Bin Laden and his deputy, Ayman al-Zawahiri, are both in the same region – but not at the same location. Both are living in relative comfort. "Nobody in al-Qaida is living in a cave," the official said.
The Taliban leader, Mullah Omar, is also in Pakistan, moving between Quetta and Karachi over the last few months, the official said.
The Pakistan government has repeatedly denied there is any evidence that Bin Laden or his deputy are in the country. Pakistan's interior minister, Rehman Malik, said today that similar reports in the past about the whereabouts of al-Qaida's leadership had proved false. If anyone had any information about the whereabouts of Bin Laden or Al-Zawahari, he said, they should inform the Pakistan government so "immediate action" could be taken to capture them.
Richard Holbrooke, the special US envoy to Pakistan and Afghanistan, said there was nothing new in what the official was saying.
"We hardly have a day that goes by where somebody doesn't say they know where Osama bin Laden is," said Holbrooke.
The US administration has privately expressed concern that the Pakistan government and intelligence services are not doing enough to combat the Taliban and al-Qaida.
US and Pakistani officials are to hold talks in Washington this week on improving co-operation.
Source URL: https://globalrights.info/2010/10/osama-bin-laden-living-in-comfort-in-pakistan-says-nato-official/
---