US shaken by sudden surge of violence against gays
by editor | 17th October 2010 8:01 am
Carl Paladino, a Republican politician running for governor, is calling for gay people to be barred from teaching in New York, where homophobic attacks are on the rise
Paul Harris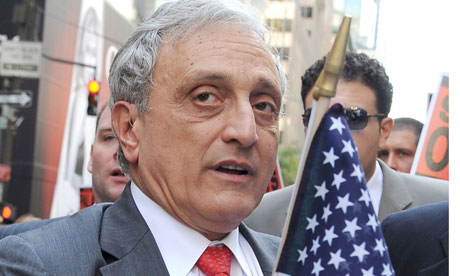 For Alan Bounville it has felt like a lonely protest. For 16 days he has held a vigil outside the campaign office of Kirsten Gillibrand, a New York senator, holding a sign calling for equal civil rights for gay people.
The 33-year-old New Yorker has suffered the stares of strangers, been ignored by the political target of his demonstration, and endured the harsh cold of sleeping overnight outside on a hard Manhattan pavement. But a series of brutal attacks on young gay men, a number of tragic suicides and alarming anti-gay public statements by Republican politicians have led Bounville to feel he has no choice. "Our people are dying. So I am just going to sit and protest. That is my job," Bounville said.
Liberal America has looked on aghast as virulent homophobic prejudice seems to have returned to its streets and cities. Most remarkable of all, much of it seems to be centred on the New York region, usually tolerant in its politics and not seen as hostile to homosexuals living openly. But it was just a few miles away from Bounville's protest in the Bronx that a group of suspected gang members brutally beat and tortured a 30-year-old gay man and several other youths who had been associated with him. The details of the assault, for which 10 people have been arrested, horrified New Yorkers. The gay victim was kidnapped, beaten, whipped and burned.
The shocking crime was just one of a series of incidents that have hit the city. Others have even occurred in the heart of New York's vibrant gay scene. In the Chelsea neighbourhood, which has a large gay population, a group of men hugging each other goodbye after a night out were punched and had a rubbish bin thrown at them. Meanwhile in the famous Stonewall Inn, where the modern gay rights movement was founded after a police raid in 1969, a customer was beaten and robbed by men who hurled homophobic insults at him.
For many observers the violence has been especially worrying as it has come at the same time as several leading Republicans have made anti-gay statements. South Carolina's Senator Jim DeMint, one of America's most powerful Republican politicians, has publicly said that gay people should not be allowed to become teachers.
Those sentiments were echoed by the Republican candidate in the New York governor race, Carl Paladino. In an astonishing piece of political theatre at a meeting of conservative Orthodox Jews, Paladino condemned gay pride parades and said gay people should not teach in schools. When the comments stirred outrage in the media, Paladino went on the talk show circuit in New York to complain about men "grinding" against each other at marches while wearing Speedos. "Is that normal?" he asked one TV interviewer.
The remarks were so bizarre some observers dismissed them as just another gaffe from a candidate dogged by allegations of infidelity and sending pornographic images by email. But gay rights activists say that is a mistake. There is a direct link, they say, between such public statements of homophobia and attacks. "These comments give licence to those who use violence. It is dangerous. It is tragic to think these hateful kinds of words have consequences," said Michael Cole, a spokesman for the Human Rights Campaign, which campaigns for gay rights in America.
Such sentiments do not just encourage violent attacks; they can also spur people to suicide. Recently a student at Rutgers University committed suicide after his room-mate broadcast one of his gay sexual encounters over the internet. In Oklahoma recently a 19-year-old man killed himself after attending a local council meeting where members of the public had spoken out against celebrating the local gay community. The family of Zach Harrington, who committed suicide at home, told their local newspaper in the small town of Norman that they believed the "toxic" environment of the meeting had pushed him over the edge.
Yet the rash of violence, deaths and homophobia has actually come against the backdrop of a series of legal and political advances in gay rights. The longstanding "Don't Ask, Don't Tell" ban against gay people serving openly in the US military has suffered a series of legal defeats and President Barack Obama has committed himself to revoking it. In Florida a recent court case allowed gay people to adopt children.
"Things are moving faster and in more unpredictable ways then we could have thought even six months ago," said Julie Shapiro, an expert on the legal struggle for gay rights at Seattle University. History, she said, was on the side of equality and that was making homophobic people more anxious. "They will land up where the white supremacists landed up. Fifty years ago it was OK to oppose inter-racial marriage. Now they are marginalised," Shapiro said.
Bounville has a simple thought when he hears statements such as those made by Paladino. "People like him are the new Ku Klux Klan," he said.
Source URL: https://globalrights.info/2010/10/us-shaken-by-sudden-surge-of-violence-against-gays/
---