Dilma Rousseff wins Brazil's presidential election
by editor | 1st November 2010 8:25 am
Dilma Rousseff wins election in Brazil with 55% of the vote, beating José Serra, who trailed on 44%

Tom Phillips in Rio de Janeiro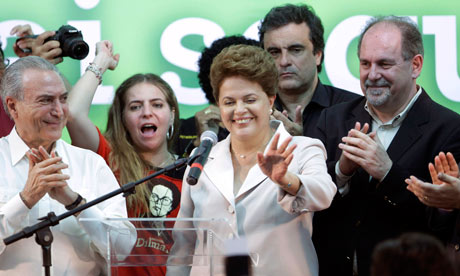 A former Marxist rebel who was jailed and tortured during Brazil's military dictatorship last night became the first female president in her country's history.
In her first speech as Brazil's president-elect, Dilma Rousseff, who polled 56% compared to her rival's 44%, vowed to eradicate extreme poverty in one of the world's most unequal countries.
An estimated 135 million Brazilians went to the polls yesterday to choose between the 62-year-old economist, who was the handpicked successor of Brazil's Workers' Party (PT) president Luiz Inacio Lula da Silva, and José Serra, a 68-year-old former health minister who was running for president for the second, and almost certainly last, time.
Speaking at a victory rally in the capital, Brasilia, Rousseff told jubilant supporters: "We cannot rest while Brazilians are going hungry, while families are living in the streets, while poor children are abandoned to their own fates and while crack and crack dens rule."
"The eradication of extreme poverty is a target that I assume and I humbly ask for the support of you all to help the country overcome this abyss that still separates us from being a developed nation," she added. "This ambitious goal will not be achieved by the government alone. It is a call for the nation."
Rousseff, a notoriously tough technocrat who underwent plastic surgery to try to boost her appeal, had looked badly deflated after being forced into a second-round run-off with Serra earlier this month but recent polls showed her pulling away, largely thanks to Lula's growing involvement in her campaign. She won a landslide victory in Brazil's impoverished northeast, where Lula was born, polling nearly 66% compared to Serra's 27.5% and also dominated much of the Amazon region.
She takes power in a country on the rise, which is expected to be the world's fifth-largest economy by the time it hosts the 2016 Summer Olympics.
In the lead-up to the election José Eduardo Dutra, the PT's president, said voters had been offered the choice of "a model that attempted to include all Brazilians" and one that promoted "income concentration and … the growth of one group of Brazilians".
"Dilma's government will advance further in terms of reducing inequality," he said.
Despite the buoyant mood among PT leaders last night, the presidential race has inspired few voters on either side, with neither candidate enjoying Lula's flair or wit. Observers described the vote as more of a referendum on Lula, while the front-page headline of one Rio newspaper yesterday exclaimed: "Phew! It's over."
Many supporters hope Lula, who is likely to leave power on 1 January with approval ratings of over 80%, will attempt a comeback, possibly as early as 2014, the year Brazil hosts the World Cup.
"There is a big possibility of … President [Lula] being a candidate again either in 2014 or in 2018," admitted Marcia Carvalho Lopes, Brazil's minister for social development.
Before then the new government will face a barrage of issues, not least fighting what the country's finance minister recently called a global "currency war".
The value of Brazil's currency, the real, has ballooned since President Lula took power, leaving exporters despondent and leading Goldman Sachs to classify it as the most overvalued currency on earth.
Public security remains a major problem, with nearly 50,000 homicides per year. The country is also facing a growing crack-cocaine crisis. A recent study by the Cebrid thinktank claimed nearly 9% of 9-18-year-old Brazilians use the drug.
With Brazil's economy booming, analysts say that investment in infrastructure and education is needed to sustain growth .
"Brazil will only leave behind its position as an emerging power and become a developed country if we guarantee quality education to our children," Rousseff admitted last week.
Source URL: https://globalrights.info/2010/11/dilma-rousseff-wins-brazils-presidential-election/
---