US Senate votes for Russian nuclear arms treaty
by editor | 23rd December 2010 7:53 am
Obama's key foreign policy legislation, a nuclear arms treaty with Russia, was passed with a Senate majority of 71 to 26 vote
Ewen MacAskill in Washington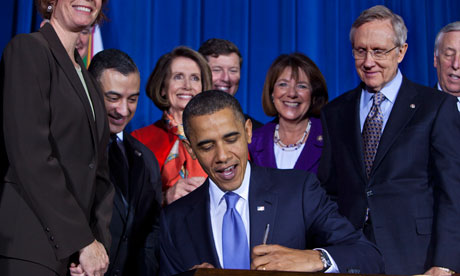 The US Senate today voted overwhelmingly in favour of a new strategic arms reduction treaty with Russia to reduce their nuclear arsenals.
The treaty has been Barack Obama's main foreign policy achievement but he had been struggling against Republican opposition in the Senate, where a two-thirds majority was needed for ratification.
With only hours of the Senate left before members headed off for Christmas, senators voted 71 to 26 in favour, a much bigger majority than had been widely predicted. In the end, 13 Republicans defied their own leadership to vote for the treaty.
The vote topped off a series of legislative victories for Obama over the last few weeks. Before heading off tonight to join his family in Hawaii for the Christmas holiday, Obama trumpeted these successes at a White House press conference.
He noted that a lot of people in the aftermath of the 2 November Congressional elections, which were a disaster for the Democrats, had predicted stalemate in Washington. But "it has been a season of progress", Obama said.
He added:"We are not doomed to endless gridlock."
Obama ran through the legisation that had been passed, of which the most important were the repeal of the ban on gays serving openly in the military, which he signed into law earlier today, and the extension of tax cuts, a messy compromise with the Republicans but which he hopes will help stimulate the economy.
Other legislation includes one on food safety and another, due for approval within the next few hours, will provide financial help for police, fire officers and others suffering respiratory problems from the 9/11 attack on New York.
On top of the health reform legislation earlier this year, the legislation passed in the so-called 'lame-duck' Congress, the session between the 2 November election and the new Congress in January, traditionally a dead zone, provides Obama with a substantial legacy less than two years into his presidency.
He described the legislation passed in the last few weeks as "the most productive post-election period we've had in decades".
He expressed regret over the Dream Act, a bill aimed at allowing the children of illegal immigrants a route to citizenship, had failed to secure enough votes but described himself as persistent and vowed he would keep at it.
He said the Start treaty was important for US national security but also for maintaining good relations with Russia.
The treaty will reduce strategic nuclear warheads deployed by each country to 1,550 within seven years. Deployed missile launchers would be cut to 700.
John Kerry, chairman of the Senate foreign relations committee, said: "This historic Senate vote makes our country safer and moves the world further away from the danger of nuclear disaster. The winners are not defined by party or ideology. The winners are the American people, who are safer with fewer Russian missiles aimed at them, and who benefit knowing that our co-operation with Russia in curbing Iran's nuclear ambitions and supplying our troops in Afghanistan can be strengthened."
The US secretary of state, Hillary Clinton, also welcomed it. "Once this treaty enters into force, on-site inspections of Russia's strategic nuclear weapons facilities can resume, providing us with an on-the-ground view of Russia's nuclear forces," she said.
A CNN/Opinion Research Corporation survey today revealed that 56% of Americans approve of the way Obama handled the issues that Congress took up during the so-called lame duck Congress. Only 41% said they disapprove.
Late this evening Obama celebrated what he called the bipartisan "season of progress" at a press conference.
He forecast struggles over spending in 2011 with Republicans who take control the House, and vowed to try again and pass sweeping immigration legislation that was blocked by Republican critics. "If I believe in something strongly I stay on it," he said.
The president, who signed legislation earlier in the day permitting gay members of the armed forces to serve openly, said he does not currently favour legalising gay marriage. "I struggle with this. I have friends, people who work for me who are in powerful, long-standing gay or lesbian unions," he said. "I have said that
at this point my baseline is a strong civil union that provides them protection and legal rights."
The economy was not nearly as dominant a subject as it has been at other news conference in Obama's tenure. He said the nation is past the "crisis point," and he intends to focus in 2011 on reducing unemployment and making the country more competitive in the international marketplace. Unemployment was measured at 9.8% in November, down only slightly from its double-digit high in 2009. Economic growth has been stronger in recent months than earlier in his term, but not yet powerful enough to guarantee a quick recovery.
Obama said deficit reduction would be a major issue in 2011.
"I guarantee you, as soon as the new Congress is sworn in, we're going to have to have a conversation about how do we start balancing our budget or at least getting to a point that's sustainable when it comes to our deficit and our debt?" he said.
Source URL: https://globalrights.info/2010/12/us-senate-votes-for-russian-nuclear-arms-treaty/
---