Gaddafi urges violent showdown and tells Libya 'I'll die a martyr'
by editor | 23rd February 2011 7:51 am
Muammar Gaddafi tells loyalists to take to streets of Libya
[1]Ian Black, Middle East editor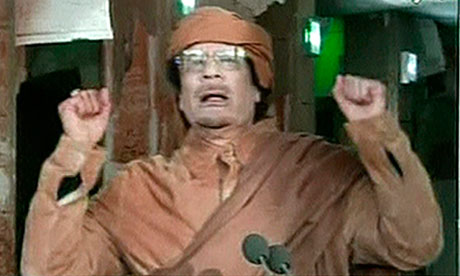 Libya's leader Muammar Gaddafi speaks on national TV from Tripoli, telling loyalists to take to the streets for a violent showdown to crush ­the uprising. Photograph: Reuters
[2]
Muammar Gaddafi set the stage for a violent, final showdown to crush Libya's popular uprising by urging loyalists to take to the streets to fight "greasy rats" in the pay of enemies ranging from the US to al-Qaida.
In an angry, ranting and often incoherent speech, the beleaguered Libyan leader ignored evidence of repression and bloodshed, including new reports of death squads, to insist that he would die in his homeland rather than flee abroad.
"I am not going to leave this land," Gaddafi vowed in a live broadcast on state TV. "I will die as a martyr at the end … I shall remain, defiant. Muammar is leader of the revolution until the end of time."
Speaking in front of the Tripoli compound bombed by US planes in 1986, he invoked the spirit of resistance to foreign powers and warned that the US could occupy Libya like Afghanistan. He claimed protesters were on hallucinogenic drugs and wanted to turn Libya into an Islamic state. They deserved the death penalty, he said, waving his Green Book.
His address showed that, despite an estimated 300 people already killed, he is prepared to unleash more violence even though parts of the country, including its second city, Benghazi, Tobruk and other eastern towns, are already out of control of his security forces. Ominously, he observed that "the integrity of China was more important than [the people] in Tiananmen Square" – scene of the 1989 massacre of democracy protesters.
Reports from Tripoli described corpses left in the streets, burnt-out cars and shops, and armed mercenaries who looked as if they were from other parts of Africa. Residents were running out of food and water because they feel too threatened to leave their houses.
Videos emerged on a filesharing website of mobs lynching two people who were understood to be mercenaries. Other film appeared of a demonstrator shot in the head by a sniper and of bodies torn apart, perhaps by artillery fire.
"Men in brand new Mitsubishi cars without licence plates are shooting at groups of people, three or four, wherever they see them gathering," said a resident of the Tripoli neighbourhood of Fashloum. "These are Gaddafi's death squads."
The BBC broadcast footage sent out of Libya via the internet, which showed protesters under fire in Tripoli and troops patrolling residential neighbourhoods. Phone lines into the country were down.
Navi Pillay, the UN human rights chief, called for the "immediate cessation of grave human rights violations committed by Libyan authorities". Citing reports of the use of machine guns, snipers and aircraft against civilians, she called for an independent international investigation into the killings. "The callousness with which Libyan authorities and their hired guns are reportedly shooting live rounds of ammunition at peaceful protesters is unconscionable," Pillay said.
With communications sporadic, it was impossible to confirm reports that key army units had defected or that officers had refused to obey orders to attack civilians. A Libyan naval frigate which sailed in the Maltese capital, Valletta, was thought to be seeking to surrender.
Unconfirmed reports on Tuesday said the interior minister had resigned, urging the army to join the people and respond to the "legitimate demands".
Libyan and foreign analysts said Gaddafi's characteristically bizarre performance underlined his desperation. "He is like an injured animal," said an exiled opposition activist, Abu Nasser. "He knows he has his back to the wall." Noman Benotman, a former Islamist fighter, said: "He will stay and fight until the last day."
Like his son Saif al-Islam, Gaddafi played deliberately on fears of division, foreign occupation and civil war and Somalia-like state collapse.
Crowds of protesters were seen hurling shoes at a giant TV screen as Gaddafi spoke. State TV broadcast pictures of supporters cheering and waving flags.
William Hague[3], Britain's foreign secretary, scorned Gaddafi's claim of a conspiracy of world leaders against him. "There is no such conspiracy," he said. "It is his own people who are rising up against him and trying to overthrow him and it is his own people who he has shamefully failed to protect from his own forces."
Angela Merkel, the German chancellor, called the speech "very frightening".
Following Colonel Gaddafi's television appearance, the Italian prime minister, Silvio Berlusconi, telephoned him and rejected his assertion that Rome had been arming his adversaries. The Libyan leader said during the broadcast that Italy and the US had supplied the protestors with rocket-propelled grenades (RPGs).
Ansa news agency reported that Berlusconi had "curtly denied" the claim. His foreign minister, Franco Frattini, said it was an "utter falsehood that leaves [one] dismayed and dumbfounded".
Berlusconi has had exceptionally warm relations with Gaddafi since signing a treaty of friendship in 2008 under which Libya undertook to block clandestine migration to Italy.
During their 20-minute conversation, Italy's prime minister said a peaceful solution was needed to prevent the country from descending into civil war. But Gaddafi told him: "Everything is going fine in Libya", Ansa reported.
The Arab League, meeting in special session in Cairo, said it was suspending Libya from its sessions. In Brussels, the EU suspended a framework agreement it had been negotiating with Libya.
In New York, the UN Security Council condemned the use of violence and called for those responsible for attacks on civilians to be held to account, in a statement agreed by the 15-nation council after a day of debate on the clashes. Earlier, western diplomats said it was too soon for the council to discuss sanctions against Libya or the imposition of an internationally policed "no-fly zone" to stop Libyan aircraft targeting civilians.
In London, Libyan anti-government protesters gathered at Downing Street to demand Gaddafi step down. Film-maker and opposition activist Mohamed Maklouf attacked the "hypocrisy" of the west. "They don't care about the Arabs … they only care about the oil," he said.
Endnotes:
: http://www.facebook.com/sharer.php?u=http%3A%2F%2Fwww.guardian.co.uk%2Fworld%2F2011%2Ffeb%2F22%2Fmuammar-gaddafi-urges-violent-showdown&t=Gaddafi%20urges%20violent%20showdown%20and%20tells%20Libya%20%27I%27ll%20die%20a%20martyr%27%20%7C%20World%20news%20%7C%20The%20Guardian&src=sp

: http://www.guardian.co.uk/world/muammar-gaddafi

William Hague: http://www.guardian.co.uk/politics/williamhague
Source URL: https://globalrights.info/2011/02/gaddafi-urges-violent-showdown-and-tells-libya-ill-die-a-martyr/
---