Syrian forces kill at least six in midnight mosque attack, say Deraa residents
by editor | 23rd March 2011 8:07 am
Attack brings to 10 the number of civilians killed during six days of protests calling for political freedoms and end to corruption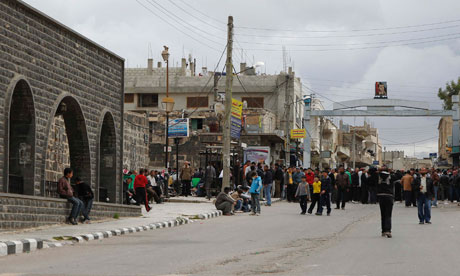 Syrian protesters gather near the Omari mosque in the southern old city of Deraa on Tuesday. Photograph: Khaled Al-Hariri/Reuters
Syrian forces killed at least six people on Wednesday in an attack on a mosque in the southern city of Deraa, the site of unprecedented protests challenging President Bashar al-Assad's Baathist rule, residents said.
Those killed included Ali Ghassab al-Mahamid, a doctor from a prominent Deraa family who went to the Omari mosque in the city's old quarter to help victims of the attack, which occurred just after midnight, said the residents, declining to be named.
Before the attack, electricity was cut off in the area and telephone services were severed. Cries of "Allahu Akbar (God is the greatest)" erupted across neighbourhoods in Deraa when the shooting began.
It was not immediately clear whether the protesters had any weapons.
The attack brought the number of civilians killed by Syrian forces to 10 during six days of demonstrations calling for political freedoms and an end to corruption in the country of 20 million. The ruling Baath party has banned opposition and enforced emergency laws since 1963.
No comment was immediately available from the government of Assad, who is facing the biggest challenge to his rule since succeeding his father, Hafez al-Assad, in 2000. A wave of Arab unrest has toppled leaders in Tunisia and Egypt.
"Dr Mahamid was shot by a sniper," one resident said. "The phone networks have been disrupted but we got through to people near the mosque on Jordanian mobile phone lines." Deraa is on the border with Jordan.
A political activist, who also declined to be identified, said: "The old quarter is in total darkness and it is still difficult to know exactly what happened."
The attack occurred a day after the UN office for human rights said the authorities "need to put an immediate halt to the excessive use of force against peaceful protesters, especially the use of live ammunition".
The protesters, who erected tents in the mosque's grounds, said earlier they were going to remain at the site until their demands were met.
The mosque's preacher, Ahmad Siasneh, told Arabiya television on Tuesday the mosque protest was peaceful.
Protesters also gathered in the nearby town of Nawa.
On Tuesday, vice president Farouq al-Shara said Assad was committed to "continue the path of reform and modernisation in Syria", Lebanon's al-Manar television reported.
A main demand of the protesters is an end to what they term repression by the secret police, headed in Deraa province by a cousin of Assad.
Authorities arrested a leading campaigner who had supported the protesters, the Syrian Observatory for Human Rights said. It said Loay Hussein, a political prisoner from 1984 to 1991, was taken from his home near Damascus.
Syria has been under emergency law since the Baath party took power in a 1963, banning any opposition and ushering in decades of economic retreat characterised by nationalisation.
Assad has lifted some bans on private enterprise but has ignored demands to end emergency law, curb a pervasive security apparatus, develop rule of law, free political prisoners, allow freedom of expression, and reveal the fate of tens of thousands of dissenters who disappeared in the 1980s.
He has emerged in the last four years from isolation by the west over Syria's role in Lebanon and Iraq and backing for mostly Palestinian militant groups.
Assad strengthened Syria's ties with Shi'ite Iran as he sought to improve relations with the United States and strike a peace deal with Israel to regain the occupied Golan Heights, lost in the 1967 Middle East war.
Limited economic liberalisation in the last decade has been marked by the rise of Rami Makhlouf, another cousin of Assad, as a business tycoon controlling key companies.
Makhlouf, under US sanctions for what Washington deems public corruption, has been a target of protesters' anger. They describe him as a "thief". He says he is a legitimate businessman helping to bring economic progress to Syria.
Source URL: https://globalrights.info/2011/03/syrian-forces-kill-at-least-six-in-midnight-mosque-attack-say-deraa-residents/
---