Boris Johnson gives Tories a boost with London mayoral win
by editor | 5th May 2012 9:33 am
Johnson beats rival Ken Livingstone to secure second four-year term as London's mayor
Hélène Mulholland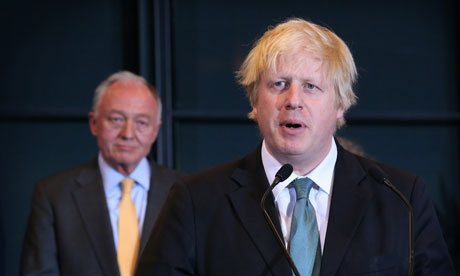 Boris Johnson speaks after his victory in the London mayoral election was announced at close to midnight on Friday night. Photograph: Peter Macdiarmid/Getty Images
Boris Johnson gave the Conservatives a much needed boost as he secured a second London mayoral term after beating his Labour rival Ken Livingstone in a bitterly fought rematch.
After weeks of intensive campaigning on both sides and a count that went on well into Friday night, Johnson denied Livingstone a second political comeback after being declared the winner of the London-wide election on a tighter than expected margin of three percentage points (51.53% to 48.47%) – the narrowest to date in the London mayoral election.
Following a long wait in a nail biting final result delayed until minutes before midnight due to glitches in the counting process, Johnson promised to devote his second four-year term to "fighting for a good deal for Londoners", while Livingstone announced he had fought his last election following a defeat he described as the one "I most regret" in a political career spanning more than four decades.
Johnson's re-election victory provided a consolation prize for Conservatives, who lost around 400 council seats, on a grim day for both coalition parties. But the mayoral race offered no such cheer to the Liberal Democrats, who for the first time came fourth behind the Green party.
The result gave closure to a bitterly fought campaign. Johnson admitted in his victory speech it had been a "long and gruelling" campaign.
But while Johnson held on to his job, Richard Barnes, one of Johnson's deputy mayors, was among those to be bounced out of City Hall on a day of mixed results for the Tories in London, which saw the assembly group lose two of its 11 seats.
Livingstone's defeat was partly offset by four gains for Labour, making it the largest group on the assembly with 12 seats.
The Liberal Democrats lost one of their three seats, while the Green party maintained two. The opposition numbers are not enough to block Johnson's budget, which requires a two-thirds majority on the 25 strong assembly.
Johnson, who campaigned on a nine-point plan for "jobs and growth" pledged to make sure Londoners, especially young people in the city, were "ready to take the jobs" that are being created.
He also paid tribute to his Labour rival, saying: "Of all the left-wing politicians I can think of during your long period in office … you have been the most creative and the most original. And, if only you will promise not to stand again, I much look forward to having that non-taxpayer funded drink that we have so far not managed to fit into our diaries."
For Livingstone, the result marked the end of a long political career which began when he was elected as a Labour councillor in Lambeth in 1971. "This is my last election," Livingstone told fellow-candidates and supporters after the results were announced in the City Hall chamber.
Johnson not only retains the keys to City Hall but will preside over the Olympic Games in London this summer, as well as strengthening his position in the party ahead of an expected return to Westminster in 2015 or 2016.
Tensions mounted after the final result was significantly delayed when two batches of ballot papers had to be re-processed for the Brent and Harrow constituency count. The long wait for a result saw Labour perform twists and turns, with Livingstone's camp privately admitting they had lost by mid-afternoon, before then denying they had conceded defeat.
As more votes were counted, Labour claimed predictions Johnson would storm to victory were looking more uncertain as results from areas where Labour expected strong support had yet to declare. Tessa Jowell, shadow Olympics minister and chair of Livingstone's campaign, played down media speculation that the Tory candidate would "walk away with it".
But the hoped for turnaround never materialised.
Peter Kellner, president of pollsters YouGov, said had Livingstone matched Labour's swing in a capital where Labour significantly outperforms the Tories, "he would have won by a landslide".
The results will add to the woes of the Lib Dem leader, Nick Clegg, but were personally disappointing for Brian Paddick. The former senior police officer delivered a more polished performance than during his previous campaign in 2008, when he finished in third place.
For Livingstone, efforts to woo outer boroughs, which had cost him crucial votes in 2008, appeared to have been in vain. Despite a strategy of blitzing the outer London ring by focusing on boroughs such as Croydon, Bromley, Bexley, Havering and Hillingdon, the tactic did not fully succeed in peeling away voters from his Tory rival, who significantly outperformed on charisma in a contest in which personality played a large part.
Two days before the poll, Labour leader Ed Miliband sought to remind voters that Johnson, at the end of the day, was a Conservative. "Boris Johnson has proven to be a typical Tory as mayor, raising fares, cutting services and standing up only for the powerful or wealthy in London."
But the pitch failed to sway the final verdict and Livingstone was left contemplating his future.
Tony Travers, director of the Greater London group at the London School of Economics, said: "Labour did very well in London and Ken did significantly less well. A different candidate would almost certainly have done far better. Ken's baggage was significant. Boris enormously outperformed the Tories on a really rotten day for them in the capital." Johnson is expected to turn up to City Hall chamber on Saturday to sign in alongside the 25 newly elected assembly members responsible for scrutinising him for the next four years. Johnson is also expected to outline his plans for the next few months.
But on top of losing his statutory deputy mayor, Johnson faces a more serious blow to his administration amid rumours that one of his closest aides, Guto Harri, is poised to leave city hall by 14 May.
Harri, Johnson's director of communications, confirmed that approaches had been made, but refused to confirm his departure or rumours that a job at News International beckons.
Meanwhile, the UK Independence party was rueing the decision to list the party "Fresh Choice for London", rather than Ukip on the ballot paper, ahead of results that were expected to see the party left without a seat on the assembly for a second time. Party leader Nigel Farage said the blunder probably meant large numbers of would-be supporters assumed Ukip was not taking part in the ballot and gave their vote to someone else in the mayoral and assembly elections.
Source URL: https://globalrights.info/2012/05/boris-johnson-gives-tories-a-boost-with-london-mayoral-win/
---