ROJAVA RESISTANCE: DAY 12 – LIVE BLOG
by Global Rights | 20th October 2019 10:16 am
20:26
Turkish army and allied mercenaries attack the village of Zormerxar in Kobanê. The village is targeted with heavy weapons.
19:18
People of Shehba and Afrin took to the streets to protest against Turkish invasion and vowed to resist to victory.
17:42
SDF Spokesperson Kino Gabriel announced that they have withdrawn all their forces from Serêkaniyê (Ras Al-Ain) on Sunday.
According to Gabriel, the withdrawal came as part of the US-mediated agreement made with Turkey to pause military operations .
"We don't have any more fighters in the city," Gabriel said.
17:07
Turkish army and mercenaries are shelling Til Rifat town in Shehba, and the villages of Minix and Shewarxe in Afrin's Shera district.
17:00
A convoy of medical teams has retrieved the wounded people from Serekaniye who have been taken under treatment in various hospitals in the region.
15:26
Sweden's Hammarby and Denmark's Hobro IK football clups cancel their planned camps in Turkey due to the Turkish incursion into northern Syria.
14:55
SDF fighters Welîd Xalid (Welîd Hesekê) and Mihemed Salih'i (Hemê Reş) who fell in the Battle of Resistance, were laid to rest in Amude city.
14:54
13 soldiers were killed as HPG/YJA Star guerrillas hit the Turkish army in Xakurke and Van.
14:40
The Syrian Democratic Council (MSD or SDC) officials held a press conference in the Qamishlo city about the war crimes committed by the Turkish state against the peoples of North and East Syria.
13:44
The Press Office of Syrian Democratic Forces (SDF) released the balance sheet of battle for October 19 in northern Syria territory that the Turkish state and allied jihadi groups seek to invade despite a ceasefire agreement reached on Thursday.
SDF said that despite the ceasefire agreement, the invading Turkish army and their mercenary gangs continued their attacks. 16 SDF fighters martyred, 3 others injured in continued attacks of the Turkish forces and allied gangs.
12:22
Kurdish Red Crescent Heyva Sor teams have once again left for Serekaniye to retrieve those injured in the attacks. The convoy, made up solely of ambulances without media or civilian presence, has reportedly reached Serekaniye.
12:08
YPJ fighter Heja Serxwebun who was wounded in an attack of the occupation forces in Gire Spi (Tal Abyad) yesterday, said; "There is no ceasefire, attacks continue but they cannot break through our resistance."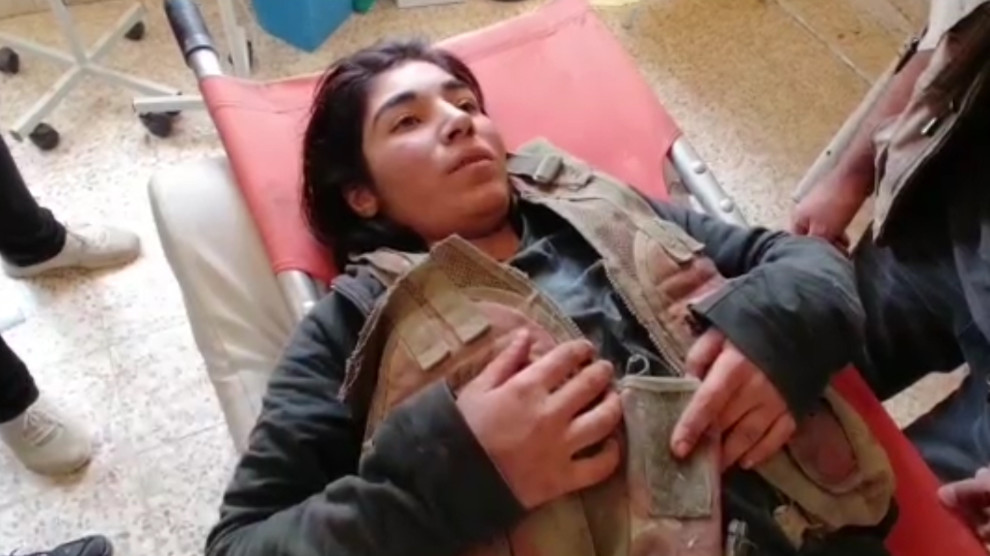 11:05
TEV-DEM Executive Board member Foza Yûsif said there were strong indications that Turkish state used phohibited weapons in northern Syria and called for inspection by an independent delegation.
09:05
Mehmed Shirin, a member of the Euphrates Region Autonomous Administration, said that the only aim of the Turkish state with these attacks was to deepen the chaos in the region and to occupy part of Syrian territory.
08:02
Defend Rojava has mobilised Kurds and their friends in many countries of the world and especially in Europe, to protest the occupation attacks carried out by the Turkish state in North East Syria.
08:01
An open letter to President Emmanuel Macron has been written by French bar associations and intellectuals who criticized the attitude of Western states, indifferent to the invasion attacks against the Kurds and the people of Rojava.
08:01
Hamburg Parliament Die Linke co-spokesperson, Cansu Ozdemir, condemned the Turkish state massacres in Rojava, and said the EU should apply more decisive and harsher sanctions.
08:00
Yüksekdağ: In Rojava strength and fairness are fighting
Yuksekdağ said: "You can be strong, but you are not fair. In Rojava, strength and fairness are fighting. Although the AKP tried to justify the court power and the clustered war lobby around it, they failed and will continue to fail."
07:58
Bayık: Kurdish people should not leave the country against the occupation
KCK Executive Council co-chair, Cemil Bayık, said that the Turkish state wants to carry out a genocide of the Kurdish people.
07:57
The invading Turkish state is bombing with mortars and howitzers the village of Kızıli in Eyn Isa. The area is experiencing high activity of reconnaissance and war planes.
Source URL: https://globalrights.info/2019/10/rojava-resistance-day-12-live-blog/
---